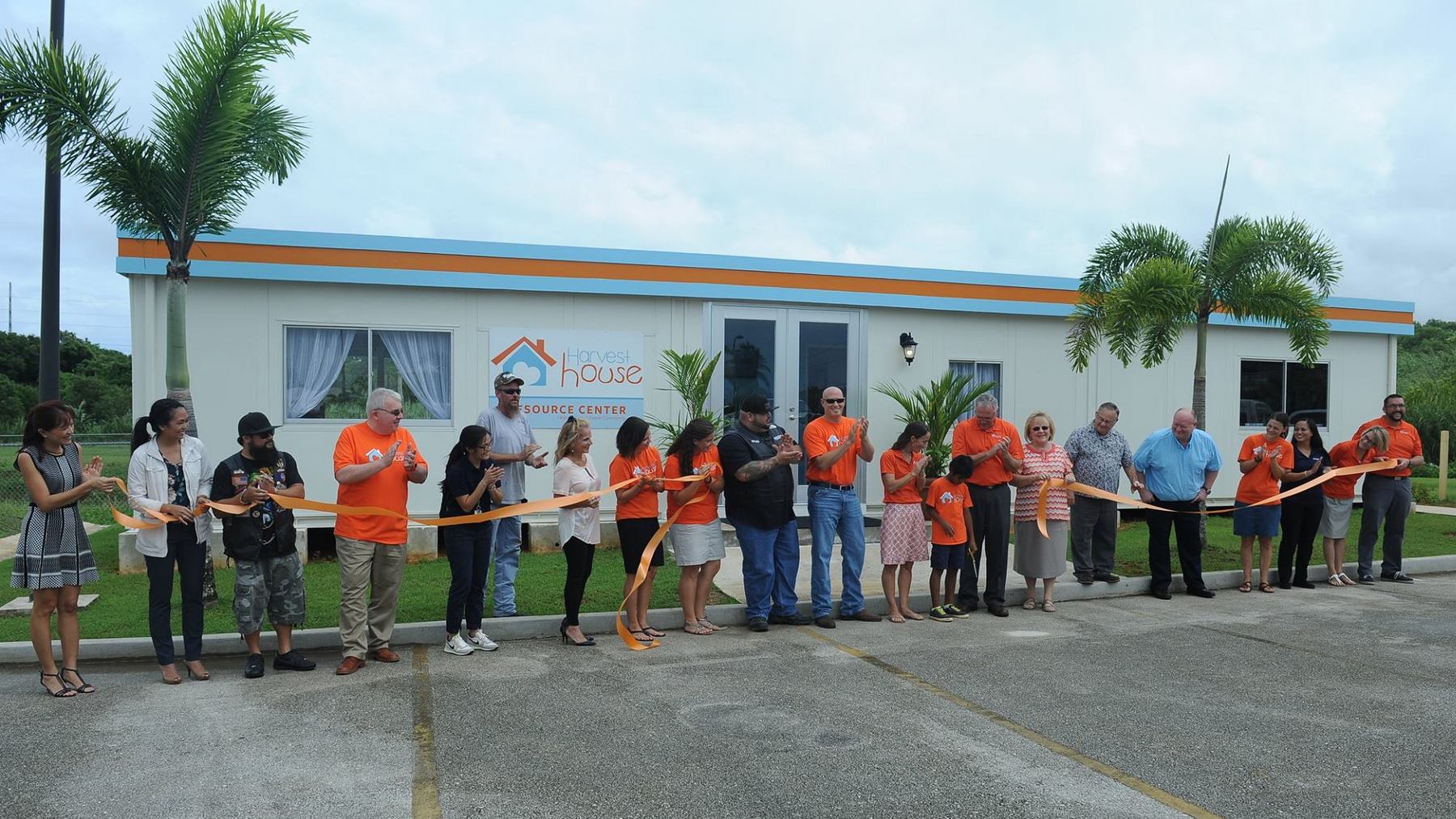 2016 was a very big year for Harvest House. We received unprecedented support from the community and accomplished so many of our goals. Here's a look back at all the amazing things God did on our island through Harvest House in 2016.
We kicked off 2016 by helping a newborn, two toddlers and a family with five kids get the clothing and necessities needed. Parents, teachers and students all spent time sorting and organizing donations to make sure we could open our doors to the foster community. At the end of January, Moda Gino's blessed Harvest House with 20 bags full of school supplies for foster children.
In February, the First Class Petty Officer Association donated brand new toys, 3 bikes and 2 scooters to Harvest House. And just before Valentine's Day, several foster parents and their foster children hand delivered Valentine Cards to their CPS social workers to thank them for all their hard work and support. Then on February 20, we officially broke ground on the new Harvest House Resource Center. Just a few days later, we kicked off a fundraiser to sell a beautiful quilt Material Girls made just for Harvest House. We ended up raising $3,000!
The Annual Payless Kick the Fat 5k and 10k happened in March and Harvest House was chosen as the beneficiary for all the money raised from the race.  Then in April, a three year old boy decided to ask for donations to Harvest House on his birthday and he raised $250. What a blessing and example of putting others' needs before your own! We also held one of our annual events in April. The 5th Annual Harvest House Spring Picture Event was a huge success in 2016, with over 20 foster families participating. They received several family photos and a free photo book.
In May, Wendy's and Coldstone Creamery held a fundraiser for Harvest House and collected $7,800. On May 27th, Jun and Sumiko Espaldon, owners of Quick Serve Foods Inc., presented Harvest House with a donation of $15,000. Quick Serve Foods Inc. is the parent company for Wendy's and Coldstone Creamery on Guam. The Harvest House team was thrilled to receive a check for almost double the amount raised!
The following month, the Guam Naval Officers Spouses' Connection presented Harvest House with a $1,000 check to help us get closer to opening the doors of our new Resource Center, along with a large donation of school supplies. Later in June, California Pizza Kitchen held a fundraiser for us which resulted in another $490 being raised.
In July, the Redeemed Christian Church of God ended their adventurous Vacation Bible School weeks by visiting Harvest House for a tour of our closet. These groups focused on showing God's love through supporting our foster community. They collected physical and monetary donations for our foster families and the church also gave us an extra gift of $200! Then at the end of the month, Harvest House hosted 144 foster children at the annual Back to School Event. Every foster child on Guam left with a new backpack full of brand new school supplies. This event truly showed how God works through our community. We received all the supplies through donations from the community and several volunteers dedicated their Saturday to making sure the event was a success.
In September, another child put others first on her birthday. An 8 year old girl asked her friends to bring her donations for Harvest House instead of birthday gifts. It was a true gift from the heart. Then a few days later, Harvest House celebrated the opening of the new Harvest House Resource Center with a Ribbon Cutting Ceremony on September 29. An incredible amount of donated time, talent and resources went into our new building and God answered so many prayers in helping us open those doors in 2016.
In October, we held our first Harvest House Holiday Fair and the success of that event can only be attributed to our Lord. We received donations from all across the globe to help us prepare for the fair. It turned out to be a great success, raising almost $5,000 for Harvest House and spreading the word about our mission.
The blessings continued in November when Guam Regional Medical Center presented Harvest House with an appreciation certificate for being a partner in supplying car seats and baby items for low income families. We also held our annual Orphan Sunday in November to remind everyone of the call to care for the fatherless.
In December, we held our annual Christmas event for Guam's foster families. In the weeks leading up to the event, we were blessed by several organizations who made large donations to ensure every foster child had a good Christmas, including the Guam Christian Homeschool Cooperative, MOPS of Guam and the Chinese Chamber of Commerce. We also received several donations from individuals in the community who wanted to bless a foster family. The day of the event, we serviced 30 families and 3 shelters, totaling almost 100 kids! It was a true example of God's grace shining down on us all.
We're so grateful for the continued support from the community and we can't wait to see what our Lord has in store for us in 2017!