On May 27th, 2016 Jun and Sumiko Espaldon, owners of Quick Serve Foods Inc. presented Harvest House with a donation of $15,000. Quick Serve Foods Inc. is the parent company for Wendy's and Coldstone Creamery on Guam. Josh and Bethany Taylor, Pastor Marty Herron and Pastor Jared Baldwin were on hand, along with many of the Harvest House volunteers.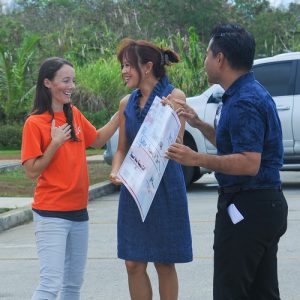 The funds were raised to help complete the construction project of the Harvest House Resource Center. The Harvest Christian Academy students collected receipts for 10 days, as they dined at Wendy's and Coldstone Creamery. The total amount collected was $7,800. The Harvest House team was thrilled to receive a check for almost double the amount, $15,000.
Here are some of the things that Mr. Jun Espaldon shared as he presented the donation.
"Before we came up to meet with Jared and Bethany, we kept thinking, wouldn't it be wonderful if Harvest Christian School students, families, teachers, staff and administrators and the whole Harvest Community could be responsible for Harvest House reaching its goal… And so, this beautiful morning, we thank the Harvest Community for your partnership with Wendy's and Cold Stone Creamery. It is really you, the Harvest Community that will allow for the completion of the Harvest House Resource Center."
Mr. Espaldon concluded with, "We are humbled and honored to be able to make this donation to people who are truly passionate, who truly care, who truly love. God works through you all, and it is very evident."
Harvest House would like to show their sincere appreciation to Jun and Sumiko for their generous partnership!